Thank you NFL for sponsoring this post. Can't wait for my next Homegate!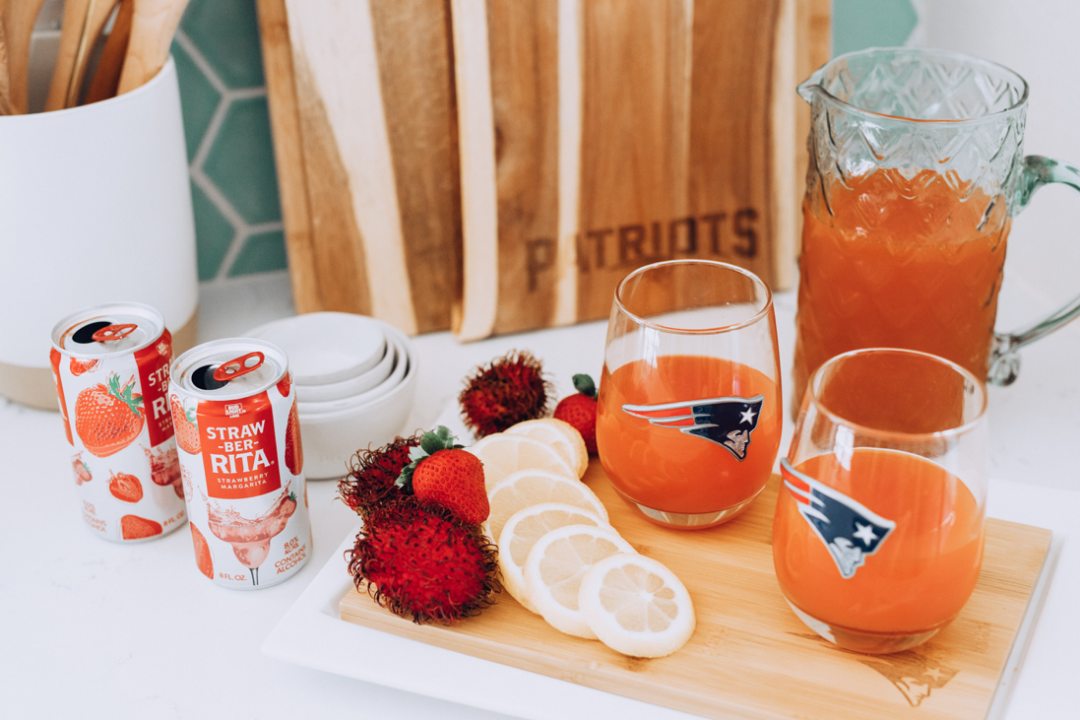 Tis the season for FOOTBALL! Am I right? With it being playoff season, I have to know – is it just our house in which the sound of football carries throughout every Sunday (and most Mondays and Thursdays)?
If you didn't know, Aaron grew up in New England and is a huge Patriots fan along with his whole family! It's been amazing to experience someone who is so dedicated and supportive of a team. His loyalty to his team runs deep. Over the time that we've been dating (almost eight years), I have adopted the team whole-heartedly and am proud to watch the games, try to keep up on stats and cheer on the players! We went to a Patriots game within the first couple months of us dating and it's still one of our favorite memories ever.
Since moving to Hawai'i two years ago, our Sundays look quite different than they used to! With the time change, the NFL games start in the morning here and it's become more of a brunch situation at our house which is so fun! Many Sundays, it's just us at home – munching and sipping – as Aaron excitedly screams at the TV ;) Other times though, football is the perfect excuse to host a little get together. We might be far from tailgating in Foxboro, but we can still bring the energy of NFL Football to the comfort of our home by hosting what we like to call a 'homegate'! We cheer on our team and deck out our house with all our favorite Patriots gear from the NFL Homegating collection.
For the last Pats game, we had some friends over as well as Aaron's sister in town from Maine. It felt so good to have loved ones in our home after finally finishing our kitchen. We had some easy, delicious food and I mixed up some drinks with Straw-Ber-Ritas! They taste great alone but I decided to try something new + included them into a recipe. We enjoyed a little drink I like to call 'Strawberry Fields' – here's the recipe:
Strawberry Fields
• 4oz Straw-Ber-Rita 
• 1oz Fresh Lemon Juice 
• 1oz Ginger Beer
• 2oz Club Soda
• Lemon wedge + strawberries for garnish
• And if you're in the islands like we are, a fun twist is adding a splash of lychee juice!
For food I kept it simple: a spread of salami, cheese and crackers, some popcorn to munch on and as half-time rolled around, Aaron made up some breakfast tacos! Happy bellies all around. We know food and football go hand in hand – whether you're in the tailgating lots, in the stadium, or at a homegate in your living room – so pulling out our NFL homegating collection items for the game was perfect.
Games in New England can be freezing and we're happy to represent our love for the Patriots right at home! Bring the spirit of the game to your home with NFL Homegating! Grab some friends and toast to your team at your own Homegate. Find your favorite items at NFLShop.com/Homegating
---
I was selected for this opportunity as a member of CLEVER + the content + opinions expressed here are all my own.